January slunk in with much after Christmas cleaning, getting back into our "school" routine and COLD!
January always comes with cold temperatures (close to half the month was below freezing and in the teens for daytime highs), inversion, fog, and snow. This is the first year that I remember having to experience freezing rain.
On with our life and how this month has been a blur (or maybe I have just been blocking it each day) for the month of January. I started the year off with my mom in the hospital with pneumonia. On January 1st, while parking at the hospital, I hit a truck. Oh, happy day & Happy Freaking New Year! Mom got out of the hospital and has been doing wonderful.
About the time we were starting to lose all viability from the smog, I decided to take down our Christmas Tree. It was the middle of the month and the longest time I had ever left a tree up...ever! While twisting myself and the tree up with my sad attempt to take the lights off the tree, I got myself stuck between the tree, wall and love seat. I was so tired that I couldn't move the love seat any more and in my ever so stubborn way, started to push myself up from the floor while wedged in my little triangle. Just when I thought I had myself going in the right direction, I realized that I was falling and shooting across the living room.
As soon as the realization struck me that I was not going up but across the room I mumbled a quick "Oh Shit" as the truth of what was going on hit me. I was heading straight at Taylor (he was laying on the couch) and quickly (didn't know that was still a speed I could hit) twisted so that I would land on the tote with our decorations that had just been neatly tucked away.
Taylor's first response was total shock and then he said, "mom, you broke the tote!" After a few seconds he looked at me and asked if I was okay, followed with a "how did you not break a rib?" He may forever regret asking me this question because I answered him honestly...my boob broke the fall! I hurt so bad, I had landed on my right side smashing my arm, boob, and face. I had to lay there to catch my breath and take assessment of the situation, since nothing was broken it was time to laugh (gently, I still hurt).
On the day of our infamous Ice Storm, Kenny had to drive to work (just shy of 40 miles on I-80 and I-15). We had several horrible accidents on the roads all over Salt Lake County that morning and Kenny was luck enough to be in the middle of one of the worst accidents that morning. He was just driving through the interchange that takes you from I-80 onto part of I-15 before you can head East on I-80 again to get off on State Street. Before he could get to far into that whole transition of his drive the accident began. He said there were trucks and cars sliding all over the place and then all he could think of was NASCAR...when there is a wreck you want to drive low to try to make through without hitting any of the wrecked cars or have them hit you. All he could think while watching what was occurring around him was "drive low, drive low."
He has been watched over by many angels this month and has been very blessed. With the ice storm, the horrible fog (mixed with the inversion) and now snow, he has not been involved in any accidents. I am truly thankful for his safety!
Looking back over this month we have had so many adventures that would be difficult to mention here without turning one blog post into a novel. I should have blogging as one of my new years resolutions :)
We have had many trips and falls, one accident, much sliding (mostly on feet) on the ice, attended a car show (no we are not buying a new car, at least for now) and fell in love with the Mini Coopers, went to the movies, I started college again, lots of homework for me and the boys, new semester for the boys, celebrated my moms birthday, watched lots of football, and spent lots of time together at home curled up in blankets watching movies and just spending time together.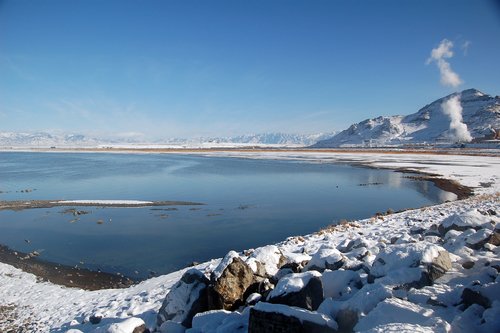 Now that January is over I can say that we survived!!
My 2 stories and little list of things above might not sound like a lot but I'm pretty sure there was more, I just can't remember. I did find out 2 big accomplishments for my boys:
Kelton finished his make up credits in 2 weeks for 2 of his classes that he struggled with and is now in a theater class in school. He is going to be in a play!!
Taylor was moved into Honors Science with the new semester. He didn't tell me until yesterday!
I am so proud of them and all their hard work.
May we all stay on our feet (haa haa) as we head into February.
May it also warm up a little as well :)